Quote:
Originally Posted by
DMGRS

Just to add - make sure you're running the correct anti-freeze blend all year round - one of the properties of this magic stuff is that it raises the boiling point of the coolant quite significantly.
It's interesting to put some numbers on this to illustrate how things vary.
These data are at normal atmospheric pressure (1 bar/15psi/100kPa)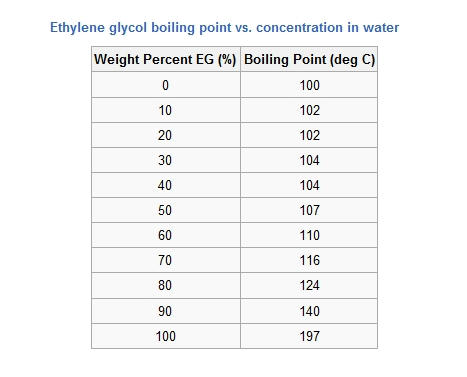 Thus all ethylene glycol based coolants have the same boiling point at the same concentration and pressure. That doesn't change whether it's the latest OAT, IAT, HOAT or any of the earlier inorganic acid varieties (phosphates/silicates/borates/ etc, etc.) The various additives constitute perhaps 5% or so and have negligible impact. Nor do they, inter alia, affect the engine running temperature.
The recommended concentration is 50%. If you decide to reduce this to say 30%, then all these numbers reduce as well. So, any coolant containing a 50% EG based antifreeze will boil at around 107°C at normal atmospheric pressure (1 bar/15psi). Of course, our cars operate at an elevated pressure, roughly 1.4bar using a '140' type pressure cap. Thus with the vapour pressure restricted to 1.4bar/140kiloPascals/20psi, the boiling point is raised by about 10°C to 117°C. (This figure is taken from the boiling point curves for aqueous EG solutions at different pressures). Going beyond this point will cause the header tank to vent. Of course, the running temperature isn't controlled by the running pressure. It simply limits it's maximum operating temperature before the coolant starts to boil.
TC